Flexible tools for creating high impact correspondence and messages requiring user data capture. Includes Multiple Signatures 2.0, Stationery 2.0, Templates 2.0 and Remote Image Inserter 2.0.
Stand out

from the crowd.
High impact email
Maximize efficiency
Easily create your own
Great corporate image
Communicate with GroupWise using high-impact email stationery.
Send distinctive GroupWise email messages and give yourself and your organization a competitive edge. Create email of a highly-professional appearance. Stationery can be used to create high impact GroupWise messages representing your corporate letterhead, newsletters and other correspondence. You can convert existing GroupWise messages to stationery, or use the stationery editor to create something completely new. You can create stationery by importing existing HTML documents or, to get you started, use one of the eleven samples included.
Remote Image Inserter 2.0
Insert Web linked remote images into GroupWise HTML messages.
Like to create GroupWise HTML email messages, but are put off by the size of your messages when you use embedded images? Or are your messages being caught in the recipient's spam folder due to inclusion of attached images?
Instead of embedding images into your messages, copy your images to a web site and use the Remote Image Inserter to insert links to the images. This can dramatically cut down the size of your email messages.  The Remote Image inserter is the perfect companion to the Stationery and Multiple Signatures solutions.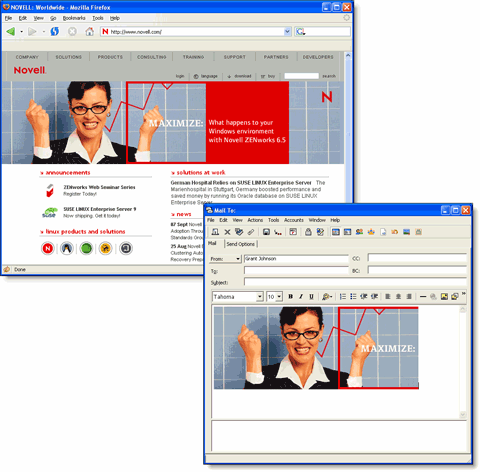 Create and use multiple high impact HTML and text signatures.
With Multiple Signatures you can create and choose from several signatures to suit each of your personas. You can choose between plain-text and rich HTML formats. Includes a plain text and HTML signature editor.  You can also use the Remote Image Inserter to add dynamically loaded images to your signatures.
Create and use static text or user-input templates in your GroupWise messages.
If you find yourself sending out the same message content time and time again, such as standard paragraph snippets, the Templates solution can help. Create reusable GroupWise email, notes, appointments and tasks content templates with ease. Templates can be passive or dynamic, meaning they either create a new standard item, or they automatically build a dialog that collects information from the user, then builds a message using data supplied by the user.  A template can be a single phrase or substantial text content.
Download Presentation Pack
Formativ commercial products are provided as
free, fully featured 30-day trial software
. For continued use beyond the evaluation period, you need to purchase a registration key. Formativ Solutions require a
Formativ Framework
product to be installed first, such as
Formativ Runtime
.
Instructions for purchasing online
Online Purchasing System. A fast and secure way to obtain a registration code to license your Formativ trial software. Please note that all Formativ software is distributed electronically as fully featured 30-day trial software only and you will not receive a physical package. You can download the software from our Formativ Download Page.
To purchase a Formativ product, please follow the simple steps below.
Product Selection. Click the Buy Online button associated with the product you wish to purchase. A new browser window opens and displays the product added to your shopping cart.
Quantity Selection. When you first add a product to your shopping cart, by default the purchase quantity will be one (1). To increase this quantity, just type the number of product licenses you require in the Quantity column, then press the TAB or cursor keys, which will change the price automatically to reflect the appropriate quantity discount and the updated order total.
Multiple Products. To add another product to your cart, navigate to the desired product's purchase information and repeat steps 1. and 2. above.
Continue to Checkout. Follow the on-screen instructions to finalize your purchase. A receipt page will display and an email will be sent which contains your registration key code(s), including a link to your online receipt.  If you require assistance, please use the Contact Us form or send an email to:
Formativ Maintenance: Provides customers with access to minor product updates. New and upgrade licenses include the first 12 months maintenance free of charge. After the first 12 months, optional Formativ Maintenance is charged annually at 25% of current product RRP.
Volume Discounts. Significant discounts are available for volume purchases.
Special Pricing. Advansys will always seek to meet special purchasing circumstances. Flexible pricing and licensing conditions will be considered.
To discuss your requirements, please contact an Advansys Sales Partner or Advansys.
Terms and Conditions: Review the Advansys standard terms and conditions.
Listed below are the minimum requirements.  It is recommended to use the latest GroupWise client update for each major release.
Novell GroupWise 2012 SP1, 8.0.1, 7.0 SP1, 6.5.
Microsoft Windows 32 or 64 bit, versions 8, 7, Vista or XP.
Microsoft Internet Explorer 6 or later.
Microsoft Windows Script 5.5 or later.
Adobe Acrobat Reader for documentation.
Formativ Solutions Support Advansys provides support via our support forums and email.  For product update and support details, please see the Formativ Support page.